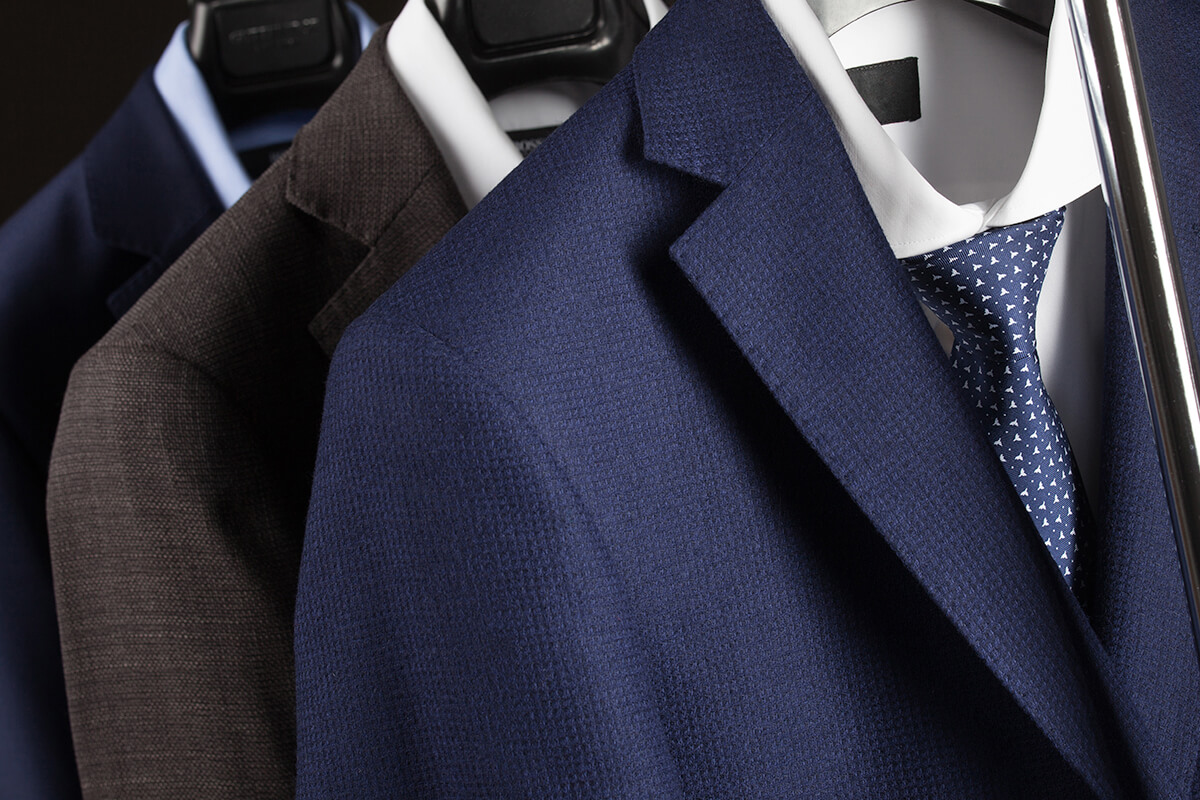 Post-pandemic workers are returning to their offices and finding that for many, dress codes are being fully enforced. Also, in professions such as law and finance, a business suit for men and women is requisite. Suits represent a sizable working wardrobe investment and need to be carefully maintained to preserve their appearance as well as to extend their serviceable life.
That raises the question for many New Yorkers: How often should business wear, such as suits, be dry cleaned? To save time and money, some workers opt to simply have their suits pressed. This is not a solution. Instead, in this posting, Winzer Cleaners, the premier dry cleaners serving discriminating Manhattanites for over a century, offers this advice to enable our clients to maintain both their wardrobes and their professional image. Here are our tips for suit dry cleaning your business wear.
To begin, how many suits do you have? How often do you wear them? What fabrics are they made of? These are key considerations. After all, a suit that is seasonal, will not receive the same amount of wearings as one that can be worn year-round. Also, those with a suit for every day of the week or more, will wear individual outfits less often, therefore these garments will not require frequent visits to the suit cleaners. Generally speaking, Winzer Cleaners advises that you should send us your garments for suit dry cleaning after approximately three to four wearings. Even if your suits do not see weekly service, the longest one should go without a professional suit dry cleaning is three to six months.
Use your own discretion here. If you've worn your outfit to an event, and it is stained, bring the garments to your suit cleaner immediately to avoid set-in, permanent stains. Also, if the garment was worn where strong odors were present, such as garlic, charcoal grilling, or even cigar smoke, you'll want to let Winzer Cleaners, as your suit cleaners, have the outfit as soon as possible before the fibers absorb and retain the offensive scent.
Here are a few caveats once your suit has been professionally cleaned by Winzer Cleaners. First, remove it from the plastic bag. Store it in a breathable suit bag, not one made from nylon, and never store it in a plastic bag. Fabrics need air circulation, so do not crush all your garments into a small closet. Instead, space them a few inches apart. If your closet will not oblige, there are many attractive, generally inexpensive options in clothing racks to complement any home or apartment decor. Follow these suggestions, and you'll add years to your suits' wearable lifetimes.
Happily, for every New Yorker, locating a professional suit cleaner is a simple task. Bring your clothing, or arrange for its pickup by Winzer Cleaners. Schedule a pickup or call to consult our experts regarding your particular suit dry cleaning requirements. And if you have not used our services before, we want to be your suit cleaners! Let us show you how! Call now!